We were in Boston and the Cape Cod area this week. We stopped off at the Marconi Wireless site at Wellfleet, Mass.
This is from the National Park Service web site:
Spanning the Ocean
For Marconi the 'great thing' was to transmit wireless signals across the Atlantic. He built stations at Poldhu, England, Glace Bay, Nova Scotia, and South Wellfleet, Massachusetts. At this stage of wireless technology relatively long electromagnetic waves were used as signals. Transmitting great distances, therefore, required great sensitivity of receivers and tremendous power. Originally, huge rings of masts were installed to support the needed antennas. When storms destroyed them, they were replaced by sets of four wooden towers, 210 feet in height. Power requirements were tremendous. Keroseneburning engines produced 2,200 volts. When fed to a Tesla transformer, the voltage was stepped up to 25,000 volts – the energy needed to transmit longwave signals so far. It was from the Glace Bay station that the first successful two-way transatlantic wireless test message was sent on December 17, 1902.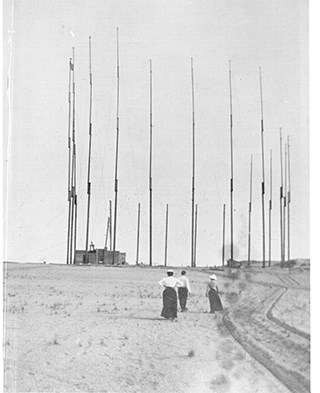 Impacting Lives
January 18, 1903 the first public two-way wireless communication between Europe and America occurred. With elation, communiques from President Theodore Roosevelt and King Edward VII were translated into international Morse code at the South Wellfleet and English stations, respectively, and were broadcast.
Ocean-going vessels quickly adopted Marconi apparatus to receive news broadcasts, and soon ship-to-shore transmittals were a major operation. Business and social messages could be sent for fifty cents a word. The South Wellfleet station became the lead North American facility for this function. The station's effectiveness was limited however, so broadcasts were made between 10 pm and 2 am when atmospheric conditions were best.
This brought little enthusiasm from local residents, who endured the sounds of the crashing spark from the great three-foot rotor supplied with 30,000 watts. The sound of the spark could be heard four miles downwind from the station. Eventually, the novelty of wireless telegraphy waned. However, the need for communication at sea remained high. Effective communication resulted in numerous sea rescues, culminating in the Carpathia's wireless-aided rescue of over 700 people from the Titanic in 1912.
For fifteen years the South Wellfleet sparkgap transmitter continued in commercial use. Skilled telegraphers sent out messages at the rate of 17 words a minute, and station CC (Cape Cod) served in effect as the first "Voice of America."
https://www.nps.gov/caco/learn/historyculture/marconi.htm